About Electromagnetic Stirrers
An electromagnetic stirrer is a non-contact stirring equipment for melted materials.
Electromagnetic stirrer has solved the weaknesses of burner reactors.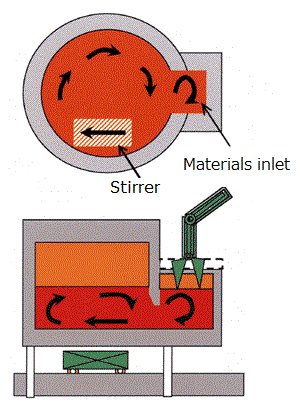 Energy saving

Electromagnetic stirrers reduce energy loss by 7~5%.

Improved quality

Stirring makes component homogenize and improve quality.

Melt down small metals

Stirring mixes up small metals. So they can be easily melted.

Automatization of removing slag

Adopting an electromagnetic stirrer makes the furnace deep. By controling stream of melted metals,we can gather slag in one place. It makes possible to remove it automatically.